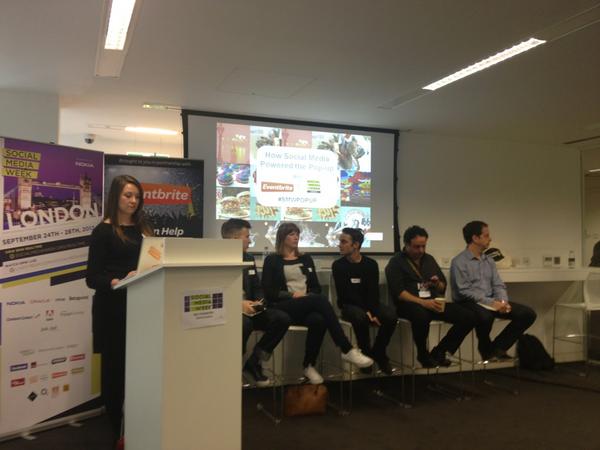 Image // via attendee @NedPoulter 
In the #SMWPopUp discussion led by panel comprised of Andrew (Box Park), Alice (Art of Dining), Max (Art Wednesday), Sam (Chinwag), & Dan (Young & Foolish). One theme rang true for almost two hours of discussion. Photos/Images/Pictures. Pictures of food. Food is the ingua franca (or working language, bridge language, vehicular language) of the internet.
Take good quality arty shareable photos. Pictures of people having fun sells whatever it is you're selling.
Sharing other user's Instagram photos to your Facebook wall simultaneously makes others feel included in the overall experience and at the same time legitimizes your brand. If you can afford it, invest in video for the legacy of your event.
Some pop-ups such as Box Park are redefining the pop-up norm and sticking around for five years. It is important to remember that pop-ups do not have walls, literally or figuratively, so don't allow strict thinking to impede creativity.
When developing your strategy, be careful of diluting your brand's strength with too many usernames. It's better to have one @username for followers and gather people around a specific #hashtag for each event.
To get the word out about your pop-up, popular tools included Mailchimp, Facebook, Twitter, Social Bro, Sprout Social, WordPress, & Eventbrite. Also location-based apps like Highlight and Banjo are perfect for targeting influencers. But when it came time to bring in cash dollars and put "bums(butts) in seats" e-mail was King, with higher click-through rates and focused engagement. Take time to develop your brand's tone of voice and avoid the PR machine trap for successful e-mail campaigns.
Beckie Stravers is a New Yorker, lifestyle blogger at Cubicle57.com, and a social media pusher at MakeYourMediaSocial.com. She loves tweets and the internet, and hopes to see  you around the world wide web. You can follow her on twitter @cubicle57blog. She is one of our four Official Correspondents covering SMW12 for Crowdcentric.