The #spanishrevolution that started in Reykjavik
Social Media Week is a leading news platform and worldwide conference that curates and shares the best ideas and insights into social media and technology's impact on business, society, and culture.
Access exclusive SMW+ content by marketers whose careers you can emulate with a free 30-day trial!
by Laura Gutierrez,
On Sunday May 15th, demonstrations against public spending cuts, corruption and unemployment took place in 50 cities across Spain. Banners that read "I want to be Icelandic when I grow up" were spotted at some of them.
In the last three years, Iceland nationalized its largest bank, endured the collapse of its currency and went bankrupt. Icelandic citizens pulled together to peacefully overthrow the government, voted against legislation that would see them – Icelandic families – pay, for the next 15 years and at 5.5% interest, for the debt contracted with the United Kingdom and Holland and prompted an investigation into the legal responsibility of those involved in the financial crisis that led to the country's bankruptcy. As a result of this investigation, senior bankers and high flying executives were arrested. Iceland also chose 25 citizens, without known political affiliation, to draft a new Constitution that won't allow for past mistakes to be repeated.
On Monday, after coordinating efforts using social networking sites, a group of young Spaniards took to Puerta del Sol, in Central Madrid, where they set up camp. At around 5AM on Tuesday morning, Madrid police forced them to evacuate the Square. Hours later, 8PM local time and largely thanks to Twitter and Facebook, Puerta del Sol was full of Spaniards protesting against corruption, cuts and unemployment. This time, 2,000 stayed behind and are set on camping there until Sunday, election day for  Spaniards who will be called to the polls to vote at local and regional elections.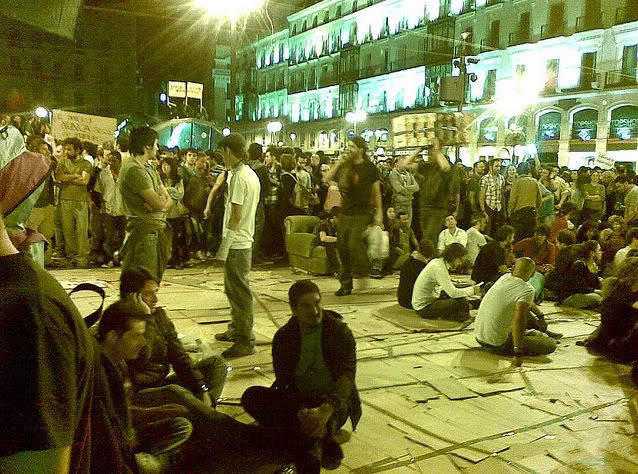 Photo courtesy of sirem1.
Throughout Monday and Tuesday, two of the three Twitter hashtags that refer to the complaints against the Spanish political and economic establishment, #spanishrevolution and #acampadasol, were trending worldwide. The third, #nonosvamos, was trending in Spain.
Several non-political associations support these peaceful demonstration taking place, not just in Madrid, but across Spain and even outside the Spanish Embassy in London. No political party or union, which alongside mainstream media have been heavily criticized by demonstrators, are behind the improvised revolution.
Democracia Real Ya (Real Democracy Already), one of the organizations behind the demonstrations, has a 40-point Manifesto with initiatives ranging from the abolition of the highly unpopular Sinde law to controlling absenteeism from Parliament and the protection of investigative journalism (wikileaks style).
Another association behind this movement, Nolesvotes (Don't vote for them), calls for voters to stay clear of supporting the two main political forces, PSOE (center-left and currently in power) and PP (center-right), and accuses them of taking advantage of the "flawed" electoral system to perpetuate in Parliament. They also believe neither force looks after their interest and finds them guilty of the "alarming levels of corruption in Spain".
Protesters believe their fight, unlike in Egypt and as it has largely happened with Iceland, won't be televised so they have set-up a service that allows anybody with a high-speed internet connection to follow them live from Puerta del Sol.
It's hard to predict the impact of the #spanishrevolution on Sunday's election but as Carlos Carnicero, prominent Spanish journalist, wrote on his blog:  "the last stage of PSOE's campaign is a plea: please come to our aid so the conservatives don't eat you alive. They might well be right but people are tired of putting out fires."
Laura Gutiérrez is a Marketing Director based in London who spends much of her time in Spain. Follow her on twitter @espaBi.
Interested in joining the Social Media Week Global Editorial Team? Apply here!
Write for Us
Interested in sharing your ideas and insights with the world? Become a SMW News contributor and reach 300k readers each month.