8 Mistakes We Make On Instagram
Social Media Week is a leading news platform and worldwide conference that curates and shares the best ideas and insights into social media and technology's impact on business, society, and culture.
Instagram has become one of the most powerful social platforms today. Launched in 2010, it currently boasts of over 300 million users. Instagram has a lot of active users, with people spending an average of 21 minutes everyday on the app.
Seeing these stats you can agree with me when I say it's an important tool for branding on social media. You'd be surprised to know that 85% of the top 100 brands of last year have an active Instagram account.
Being a fairly new platform in the marketing scene, there are a lot of businesses that are still trying to get a hang of the app. There are several mistakes that I frequently see business owners make on Instagram. Below are 8 of the most common mistakes made on Instagram, and how to avoid them…
1. Incomplete Bio
A bio describes your brand and tells users what you stand for. The lack of a bio makes you seem extremely unprofessional. Who are you? What do you stand for? What are your offerings?
Solution: describe the mission/philosophy behind your products. Tell users why you're here on Instagram. Complete the bio with a link to your website.
2. Misuse of hashtag
When you're new to the app, it's entirely possible to misuse hashtags on Instagram. #iwasthin #dunnowhathappened #awesomefeels do not make sense. For those of you who do not know how hashtags function, here's something to remember: hashtags are used in the process of discovery.  Use your hashtags wisely. Research shows that posts with 11 or more hashtags receive nearly 80% interaction, compared to just 22% when using 10 and 41% when using two (Instagram limits the number of hashtags allowed per post to 30).
Solution: use relevant hashtags. #iwasthin #dunnowhathappened can be clubbed under #throwback
3. No caption
If you want your followers to understand you product, make sure you tell them a story through your caption. It will help your followers understand a little more about your brand, along with improving chances for engagement in the form of comments.
Solution: use a caption. Pro tip: try writing a caption with a call to action. Add a question or ask for their views in order to engage with the fans.
4. No engagement
Instagram is not only about posting. You also need to do your bit and be involved with your followers. When your fans see you interacting with them, they feel a personal connect with the brand. And today, marketing is all about building relationships.
Solution: like relevant posts, follow relevant audience , tune into what your followers are talking about ("Following" under the activity tab helps you in finding out what are your followers up to).
5. Lack of strategy
Whether you're on Instagram to increase brand awareness, showcase a new offering, or add a human element to your brand, each update should be adding value and help you attain goals.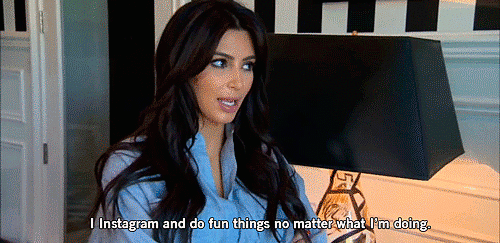 Solution: do not start Instagram for the heck of it. Have a strategy in mind before you decide to start posting your visual content.
6. Over posting or Under posting
When you post multiple updates in a short time frame you're overposting. When you post once in a week, you're underposting. The goal is to have a brand recall on Instagram. Over posting means your followers think you're spamming them, under posting means your followers forget about you.
Solution: Space out your posts. 2-3 posts a day will ensure that you're noticed.
7. Quality of pictures
Images are content too. The quality of images you use says a lot about your brand. Putting up blurry pictures comes across as unprofessional. No one wants to see images that are cluttered.
Solution: ensure that good quality images go up on your Instagram profile. Visual content if done right can lead to successful branding.
8. Private Account
Having a private brand account means limiting your followers by a HUGE number. Don't…it's only going to take forever to build brand awareness.
Solution: go to your privacy settings and change your account settings to open. And see how quickly your follower count goes up.
Watch keynote speaker Seth Godin
Bestselling Author and Entrepreneur, Seth Godin spoke at #SMWNYC. Watch his talk + hundreds of others on SMW Insider.
Watch SMW Live
SMW Insider is a premium video platform that streams more than 300+ hours of talks, presentations, and interviews from leading industry experts.
Write for Us
Interested in sharing your ideas and insights with the world? Become a SMW News contributor and reach 300k readers each month.