Google Announces 4 New Types of Ads for Marketers Including Email List Targeting
Social Media Week is a leading news platform and worldwide conference that curates and shares the best ideas and insights into social media and technology's impact on business, society, and culture.
For years, marketers have relied heavily on Google to reach and advertise to individuals online, especially across Google Search, Gmail, and YouTube. Today, with so much content and messaging flying around the Internet, our mobile devices, and even in our physical world, decisions are made incredibly fast. We're in an era of impulse purchases, relevant ad re-targeting, and high-levels of content quality, all of which are essential ingredients to an effective ad campaign.
Google understands that this is the current state for marketers using Google Ads, and they want to help us achieve more with new announcements to advertising across several Google properties. If your business has an email list of any kind, such as a customer list, rewards members, or newsletter subscribers, you'll be able to target these individuals with Google's new tool, called "Customer Match."
1. Upload and target a list of email addresses with "Customer Match"
Serving ads to your most important and valued customers just got easier. A new ads offering from Google called "Customer Match" will allow advertisers to upload a list of email addresses, which can identify and match signed-in users on Google in a secure and private way. Once uploaded, you can create and deploy campaigns targeting the individuals' email addresses and Google accounts.
Along with targeting your existing customers, you'll also be able to deliver ads to "Similar Audiences" across Google, which are individuals who have similar interests and characteristics to your original list. This is especially useful for companies eager to grow the community, expand a rewards program, or increase customers to drive more sales and generate new leads. Targeting "Similar Audiences" works across Google Search, YouTube, and Gmail just like "Customer Match" does.
"With 'Customer Match', your brand is right there, with the right message, at the moment your customer is most receptive. Only Google can help you do this to delight your most loyal customers in the moments that truly matter. 'Customer Match' and 'Similar Audiences' will be rolling out to all advertisers over the next few weeks." Learn More.
2. Click-to-Buy Product Cards Within Non-Owned YouTube Videos
Earlier in the year, YouTube announced a new way for businesses and brands to promote their products within their own videos. Now, this new update will show a click-to-buy ad within partner videos on YouTube. No longer restricted to your own videos, advertisers will be able to transform any relevant video, owned or non-owned, into a digital storefront.
Not only is YouTube providing product marketers, influencers, and brands with a new revenue stream opportunity, but they also created a clean user experience through the "YouTube Cards" (which works perfectly on any device once you click the "i" icon in the video). We'll likely not hear as many "check the links below" in YouTube videos, because now they will automatically appear from the side with nice, big visuals, and direct links as well.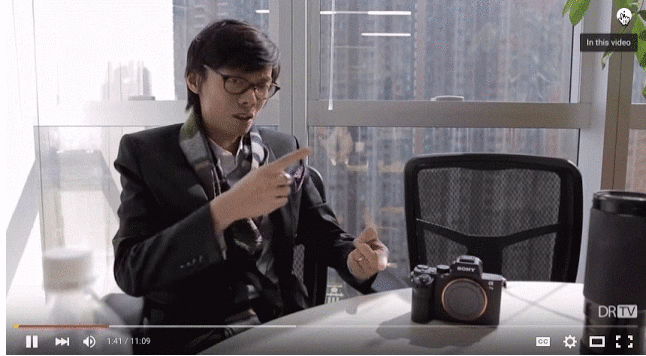 3. Super Simple Mobile App Marketing Across Google Services
When it comes to mobile apps, we constantly read about them, discover new ones, share home screens with colleagues, and search for the next greatest game or time-saver. For businesses and brands with an app (Android only), or agencies working with clients that have an app, Google announced a new way of promoting your app across various channels.
The new "Universal App Campaigns" are designed to reach customers in multiple different ways. This new AdWords campaign allows marketers to reach app users across Google Search, Google Play, YouTube, and the Google Display Network (GDN). Setting up this new type of campaign only requires a few easy steps, such as setting a cost-per-install, and Google takes care of the rest to get your app in front of the right people at the right time, and in the right places too.
Better yet, Google pulls in images, videos, and descriptions of your app automatically to generate new ads that are optimized and sized perfectly for wherever they end up across the Google network.
4. Know When People Search YouTube for Your Brand
Perhaps your marketing campaign has a specific call to action, such as signing up for a newsletter or purchasing a product, the individuals that see your ads might be inclined to search for your business online. Google already allowed advertisers to better understand when your brand, and relevant keywords, were entered into Google Search, and this capability is now available with YouTube searches.
Video content today reaches higher, deeper levels of quantity and quality, and it is very reasonable for one to search for your brand, industry, or product on search engines besides Google. That's why YouTube searches will now play a role in Google's "Brand Lift" metric, which allow advertisers to see if your ad is driving searches for organic video content connected to your brand. Ultimately, adding video search keywords to the "Brand Lift" measurement will help you determine the impact of your campaigns.
Watch keynote speaker Seth Godin
Bestselling Author and Entrepreneur, Seth Godin spoke at #SMWNYC. Watch his talk + hundreds of others on SMW Insider.
Watch SMW Live
SMW Insider is a premium video platform that streams more than 300+ hours of talks, presentations, and interviews from leading industry experts.
Write for Us
Interested in sharing your ideas and insights with the world? Become a SMW News contributor and reach 300k readers each month.