Facebook Just Rolled Out An App Exclusively For Video Content Creators
Creator for iOS and Android lets anyone take charge of their video streams and engagement.
All sessions from #SMWONE, our four-week virtual conference program, are now available on-demand.
Look out, YouTube. Facebook has made yet another move to expand its presence in the video space.
The company took to its blog last Thursday to announce a new app and website geared toward amplifying its support for creators and their fans. If the name sounds familiar, it's because YouTube has an anagalous product (YouTube Creators) with the same end goal of empowering people with the tools they need to make better content and engage communities.
"The Facebook Creator app is a one-stop shop for creators of all kinds, to help take their passions to the next level. With the app, creators can easily create original video, go live with exclusive features, and connect with their community on Facebook — all from their pocket," explained Chris Hatfield, Product Manager for video.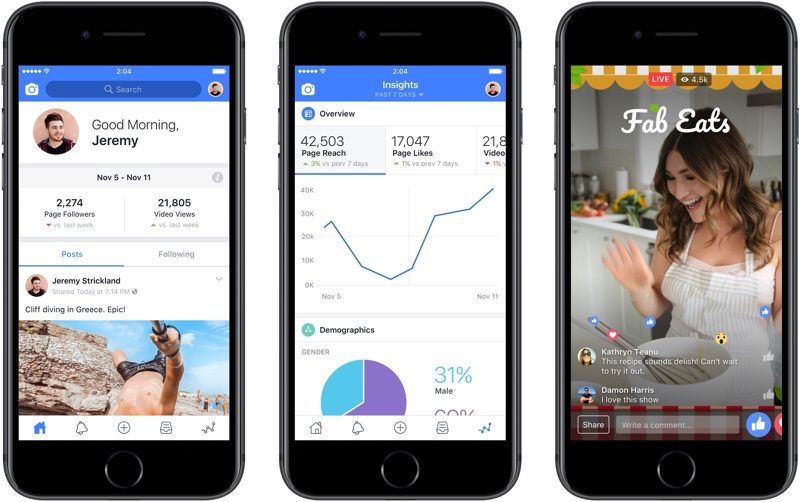 Here's a run-down of the app's core features and what they can offer:
Live Creative Kit: This feature allows creators to deliver live broadcasts in a customized way that showcases their creativity and develop a consistent, stand-out brand image and story. For instance, they can add special touches such as personalized intros and outros, custom live stickers users can utilize to interact with the video, and graphic frames.
Community Tab:

To help creators more effectively engage with their community, Community Tab brings together comments across Facebook and Instagram in addition to messages from Messenger.

Camera and Stories: These days, there are so many outlets through which content is shared. Recognizing this, Facebook has included access to Facebook Camera within the Creator app itself. Further, creators can cross-post to Instagram and Twitter, reducing friction by simplifying the sharing process. As a result, more time and effort can be spent on creation of the content itself and engaging with followers.

Insights:

In an effort to help guide creators' understanding with respect to what type of content is working versus what isn't, the Creator app comes with easy-to-access metrics surrounding their Page, videos, and fans.
Launched in August, creators currently making shows for Watch will also able to log into the app as their Show Page to access any of the above features. The company reveals that for the time being they are testing shows with a set of creators, but anticipates a broader rollout.
In conjunction with the new app, Facebook has also unveiled a new website: Facebook for Creators. The site will serve as a hub for resources on how to improve your videos, grow your community, and find answers to creator-specific questions. As an added perk, by joining the Facebook for Creators community, you'll have early access to new features and tools.
"It's a big priority for us to bring people closer together around meaningful content and the people who are meaningful to them. Creators are right at the intersection of everything we think is pretty unique about Facebook." Facebook's VP of video product Fidji Simo said in a statement to TechCrunch.
Simo also explained that as far as monetization is concerned, they recognize every creator has their specific needs and for this particular reason, applying one business model across the board would simply not work nor be realistic. While the company is open to exploring various options in the future, there are no plans or developments at the moment.
Learn the latest trends, insights and best practices from the brightest minds in media and technology. Sign up for SMW Insider to watch full-length sessions from official Social Media Week conferences live and on-demand.
Write for Us
Interested in sharing your ideas and insights with the world? Become a SMW News contributor and reach 300k readers each month.