15 Big Trends That Will Influence Marketing In 2018
Here are the themes that every marketer should have on the radar.
Access exclusive SMW+ content by marketers whose careers you can emulate with a free 30-day trial!
The year 2017 was marked by heightened tensions (and a healthy dose of drama) at the intersection of technology and culture.
The word of the year, according to Dictionary.com, was "complicit," defined as being involved in an illegal or questionable act. Outside of the context of politics, the term could also be applied to the cascade of headlines that made people question what technology's role in society should be. Some critics raised concerns that the Big Three have amassed too much power.
Closer to home, members of the Association of National Advertisers—a leading organization for brand marketers—selected "artificial intelligence" as their own word of the year. Putting aside the over-hyped nature of "AI" as a buzzword, there is no questioning the growing importance of automation when it comes to business on the whole. But where do humans fit in this future?
With these themes still lingering, we tapped into our network of speakers, contributors, and collaborators to compile a list of breakthrough trends that stand to impact the marketing world in 2018. These topics will be explored in depth at Social Media Week's 10th anniversary conference in New York City from April 24 to 27, 2018.
1. Brand Purpose 2.0
Here's an insight you've probably heard by now: Led by millennials, consumers are increasingly factoring things like brand mission, values, and sustainability into their purchase decisions. With more and more consumers "voting with their wallets," brands will continue to step up in 2018, taking a stand in ways that go beyond a one-off viral video or :30 spot.
Looking for the new bar? Patagonia is suing the president to protest his decision to withdraw the protected status of more than 2 million acres of land in Utah. What's more, specialized agencies are popping up to help brands identify and communicate their purpose.
2. Experiential Retail
As e-commerce continues to grow alongside the relentless momentum of Amazon, retailers are finding new ways to give people a reason to connect with their brands in-store. In 2017, we saw an uptick in experiential retail experiences, from traditional brands like Nordstrom (which is testing stores without clothes), to startups like the Brooklyn-based pop-up shop Bulletin and Storefront, which rents out temporary retail space.
For further evidence of the movement, look no further than digital-first companies setting up shop via physical presences. In 2017 we saw such efforts from Google, Bumble, and Amazon, to name a few.

Image via Digiday
3. Analog Bounceback
As the tides of technology rage on, 2017 saw several examples of people and businesses gravitating around purposefully non-digital aims. These included companies that, despite being rooted in technology, aspire to help people unplug and unwind (#meta). Calm, a meditation app, was named Apple's App of the Year. Meanwhile, companies like Getaway and Hipcamp gained popularity by connecting people with nature.
Brands are getting on board, too. For example, Casper hosted a camping outing for its community during the solar eclipse. This past fall, REI extended its #OptOutside campaign for a third straight year, urging people to enjoy nature instead of shopping on Black Friday.
4. Blockchain Reaches Digital Advertising
A simple Google Trends search for the term blockchain says it all. In 2017, interest in blockchain technology seeped from the crevasses of the tech community and became a mainstream talking point in nearly every industry—marketing included.
The Harvard Business Review defines blockchain as "an open, distributed ledger that can record transactions between two parties efficiently and in a verifiable and permanent way." Bitcoin was the first application of blockchain, so the two terms are easily confused. Beyond cryptocurrency, blockchain technology holds tremendous potential when applied to other applications such as medical records, invoices and contracts, and even voting.
Blockchain's ability to decentralize systems stands to have a tremendous impact on digital marketing in particular. The advertising industry was built on the role of "middlemen" in the equation (agencies, networks, and trading desks), but with the rise of decentralization, we will begin to see a shift in the ways digital campaigns are managed. While still in its early days, expect blockchain to gain more prominence in the digital advertising world come 2018.
5. The New Age of Influencer Marketing
Influencer marketing has become a proven tactic for raising awareness and driving influence within specific communities and niche categories. The space has done a lot of growing up over the past few years—especially by way of measurement and disclosure—but it's also become crowded. Consider this: Of the several hundred speaking pitches we received for the upcoming SMWNYC conference in April, influencer marketing was far and away the most popular topic.
By now, marketers are well-aware of the power of this tactic, but the challenge in 2018 will be how to determine the right technology partners, agencies, and creators to power their campaigns. Look for brands to hold the entire influencer space to even higher standards and demand more transparency with improved measurement.

Image via eMarketer / Linqia
6. Collaborative Consumption Matures
The sharing economy continued to expand in 2017: From new ridesharing options (and the continued growth of major players like Lyft and Uber) and WeWork's spending spree, to the emergence of new services for boats, campsites, common household items, and everything in between.
Sharing products and services has become commonplace for consumers, which means that brands that sell products on a permanent basis need to work even harder to drive purchases. Why buy that new dress when you can rent one from Rent the Runway, which expanded its subscription model in late 2017? Rather than fight the trend, companies like Ann Taylor are joining the movement by rolling out their own rental lines.
In 2018, building a brand that stands for something beyond ownable products will become a key differentiator for companies seeking to test the waters of the collaborative consumption model.
Image via BCG
7. Branded Audio Goes Mainstream
Riding high on momentum from the massively popular "Serial" podcast, audio continued to surge in 2017 and brands were quick to jump on board. Per one report, podcast listeners grew more than 20 percent YoY and 40 percent of Americans have listened to a podcast. For context, as of 2016 just 30 percent of Americans used Instagram.
Gimlet Creative (led by Creative Director Nazanin Rafsanjani, a SMW speaker alum) is teaming up with brands like Tinder, Mastercard, and Virgin Atlantic to create compelling audio content around relevant topics. Platforms and publishers are getting involved, as well, including Ad Age and the millennial parenting site Fatherly (hear from them at SMWNYC 2018). In an effort to expand podcasting to Middle America, iHeartRadio recently debuted "Good Company," designed to resonate with rural communities.
8. Conversational Commerce
No longer a tool exclusively used for customer service and support, messaging apps grew more powerful in 2017 and will become an important gateway to commerce in the coming year. Some examples: Whole Foods has a recipe-fueled chatbot; Domino's allows you to order pizza from its app, via a text (using the pizza emoji), and Amazon Echo; and Nordstrom allows customers to shop within its iMessage app.
In 2018, look to Apple (iMessage), Facebook, Whatsapp, Snapchat, Kik, Viber and other platforms to deepen their integrations with retailers and e-commerce services, thereby creating even more frictionless shopping experiences.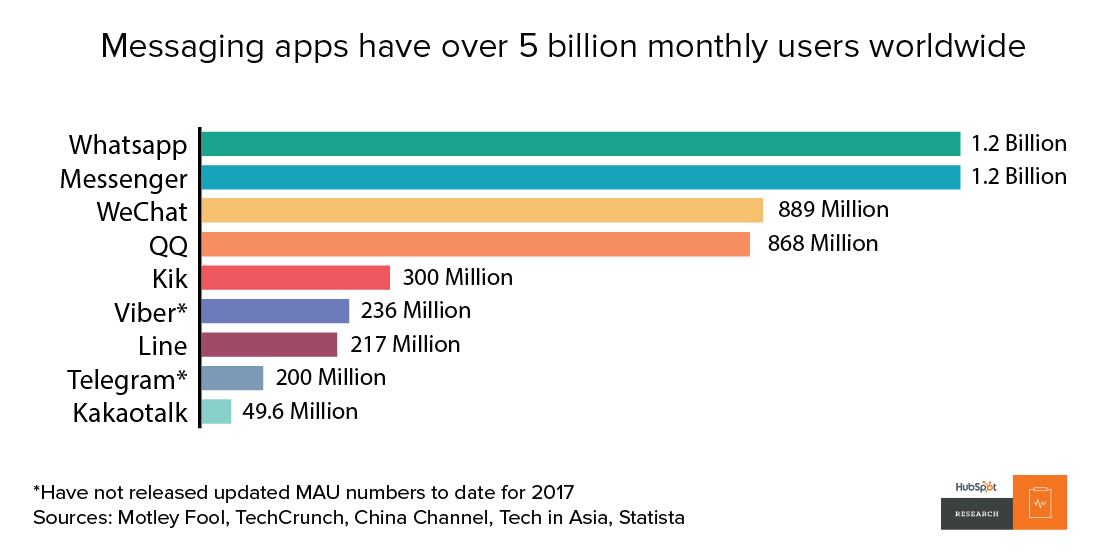 9. Branded Content Grows Up
Branded content studios continued to proliferate in 2017, but challenges and "correction" in the digital publishing industry will spur the need for more strategic and creative efforts. For example, Vox Creative recently launched an Explainer Studio, doubling down on the type of content they do best. Other publishers will need to soul-search in 2018 and identify the types of branded content that will drive ROI for their advertisers and engagement from their audiences.
As publishers like Vox, BuzzFeed, and others invest more heavily in their own studios and forge direct relationships with creative talent, agencies will continue to feel the pressure when it comes to maintaining ground in the war for branded content ownership. This fierce competition for ad dollars will be a staple trend in 2018.
10. AR (Finally) Drives ROI
In late 2017, Apple CEO Tim Cook declared that "AR will change everything." The statement didn't come as much as a surprise, given that Apple debuted its ARKit at WWDC in June. At F8 in April, Mark Zuckerberg also prioritized AR and explained that he sees Facebook as an opportunity to merge the physical and digital worlds in new and exciting ways.
Next year, we expect AR to make the much-anticipated move from a buzzy, experiential tactic to a verifiable strategy for driving ROI. As smartphone technology continues to expand by way of AR capabilities, brands will be able to use digital experiences, layered upon the real world, to drive deeper interactions and provide consumer value. Some early examples include Home Depot's color-matching app and Wayfair's AR-powered shopping app.
11. Voice, Too
The top-selling product on Amazon this holiday season? The Amazon Echo Dot, proving that connected device penetration is growing rapidly and will continue to do so in 2018. Google Home was also one of the top 5 most-downloaded Android apps on Christmas Day, revealing that Amazon isn't the only manufacturer with momentum in the voice space.
One factor driving adoption: voice technology's frictionless user experience, which caters to people of all ages. Similar to tablets, non-digital natives and younger consumers alike can easily navigate voice commands, making it more universally used. As this consumer adoption continues to increase, brands will build out strategies that go further than PR stunts and deliver tangible value to consumers.
Early adopters of voice technology include Domino's, which built a pizza delivery Alexa Skill, and Johnnie Walker, which is using voice to help consumers make purchase decisions. Expect more use-cases like these to come from household brands in 2018.
12. Tech's Reckoning
Tech has long been viewed as a bastion of hope, progress, and opportunity in the business community, but its aura dimmed in 2017 as several conflicts and misgivings came to light. These included high-profile charges of sexual assault and discrimination, questions around tech's unwieldy influence on civic life, and a generalized hypocrisy when it comes to what the industry purports to stand for and how it operates behind closed doors.
Some pundits predict that things could get worse in 2018, but we take a more optimistic stance. The revelations of 2017 have created an environment that makes change more easily achieved. In the coming year, industry leaders will join together to address its challenges head-on and drive tangible action.
The final three themes recapped here might look familiar—that's because they form the foundation of Social Media Week's global theme for 2018: "Closer." You can learn more about our 10th anniversary conference in New York, coming this April, here.
13. The You-Universe
Technology makes it possible for people to instantly reach audiences in ways never before possible. It's also bred a culture of narcissists through filters that alter our appearance, bots that pad our follower counts, and the accessibility of instant fame as we saw with the rise of Vine celebrities and the Kardashians.
Personalization has been a boon for business and marketers, who today can deliver valuable, customized experiences to consumers based on their social graphs. The trend toward a more personalized web will inevitably continue in 2018, but not without some necessary soul-searching on the part of consumers, brands, and platforms alike.
14. The Social Divide
Social media promised to expose us to new cultures and communities, but in many ways it has had a reverse effect. A recent study of 50,000 Americans found that social networks and search engines are driving a wedge between us, hardening our viewpoints and isolating us from the perspectives of others. A slew of early Facebook employees corroborated these findings in the final few months of 2017.
To counter this trend, Mark Zuckerberg rewrote Facebook's mission in 2017 to focus on bringing people together and embarked on a "Great American Road Trip" to learn more about how everyday people use the platform.
In 2018, expect to see more examples of digital platforms taking steps bring people together in the real world—especially in the wake of some of the pushback these companies received in response to the 2016 election cycle. In particular, keep a close eye on how WeWork's acquisition of Meetup plays out.
15. AI vs. Humanity
By 2020, 80 percent of consumer interactions will take place without a human (Source: Gartner). It's hard to ignore the speed at which AI has seeped into nearly every industry, and in 2017, debate swirled regarding the role of humans in an increasingly automated future.
How much should we lean into the amazing capabilities of artificial intelligence, and how much should we place controls on it today so we can harness it responsibly in the future? This question will be a focal point for brands and technologists alike in 2018.
Join us at SMWNYC from April 24-27, 2018 to explore each of these themes in depth with a high-profile roster of speakers from leading brands, platforms, and startups. Register today to claim your pass.
Write for Us
Interested in sharing your ideas and insights with the world? Become a SMW News contributor and reach 300k readers each month.