How to Effectively Engage Your Audience Through Email Marketing
From enhancing your storytelling to amplifying your subject lines, bookmark these effective tactics to drive your subscriber engagement rate and gain more success from your email outreach.
Access exclusive SMW+ content by marketers whose careers you can emulate with a free 30-day trial!
Gone are the days of Spray and Pray email marketing. You cannot do those once customary 'Email blasts' to every subscriber on your contact list. The email marketing landscape has changed rapidly, thanks to the ever-increasing demand for personalized messaging. Striving for higher subscriber engagement is the primary reason behind this transition. However, things are not as simple as they seem to be since subscriber engagement is about sending the right message to the right message person at the right time.
As per a recent report by Campaign Monitor, "Increasing customer engagement rates was the most important goal for 58% of marketers and the most significant barrier for 44% of marketers." These numbers show how much customer engagement means to email marketers and how crucial it is to enhance it.
Hence, I have compiled a few of the most effective tactics that you can pursue to take your subscriber engagement rate through the roof.
Dynamic and storytelling content
'Content is king,' and content hasn't earned that title just like that. For any communication, be it personal or professional, communication is the soul, which stands true for email marketing. Weaving storytelling content in your emails would immediately elevate their online experience. They would be hooked from the get-go. However, it is some extra effort to sync your storytelling and branding together, but it is subscriber engagement you are aiming for, so you go to give it everything.
You can feature value-added content in your storytelling, such as news, tips, customer success stories, tips, and much more. As per a Forbes report, "millennials no longer become engaged through pure ads."
When you strike the right chord with the subscribers, your engaging content will start impacting the sales as well. Connecting with people at a personal level leaves a profound impact on their buying behavior, and if executed right, it can do wonders for your brand.
If you are also looking to enhance your email campaign's engagement appeal, then look no further than Mailchimp email experts or Marketo certified experts. They are the best in the business of taking your email marketing endeavors to the next level.
Impactful subject lines
On average, 121 emails are being received in every inbox each day. That's a lot of emails, irrespective of whether they are personal, professional, and promotional. Now, in this sea of emails, the subject line is the deciding factor if your emails would be opened or will be another forgotten message that was never read in the first place.
It's imperative to create subject lines that make a substantial impact on the readers. They will appeal to them and boost your engagement rates. A well-crafted subject line is short, tempting, and descriptive. You can go for different tonalities such as personal, informational, how-to, etc. Inserting emojis in subject lines is clever since they promise higher CTRs.
Here is a good example of how a precise subject line can set the right premise for your email. The subject line for Postable's email says, "Refer your friends and get $$$." The messaging is to the point clear, and hence, the recipient knows exactly what to expect once they open the mail.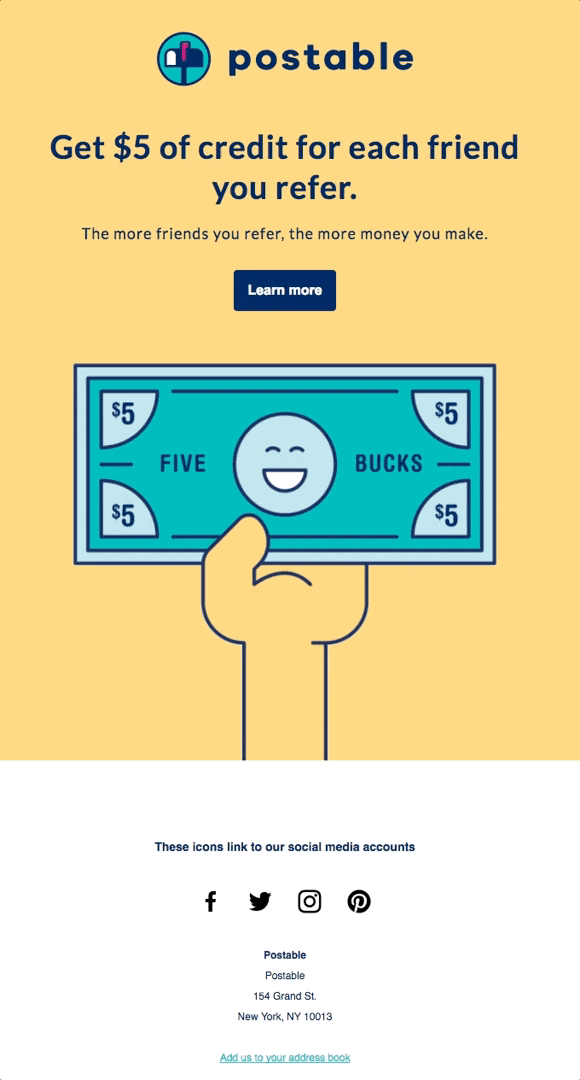 Source: Really Good Emails
Personalized emails
A Campaign Monitor report found that "improving email personalization was the number one goal for 38% of marketers and was also the number one challenge for 36% of marketers." To achieve personalization in your email marketing campaign, you can practice marketing automation, email list segmentation, and even third-party integrations.
Striking that chord with the recipients is easier if the content you serve them is relevant to them and as per their interests. Personalization doesn't stop at just adding their name in the subject line. Instead, you can engage with them in even more ways, such as writing first-person emails and more. The plan is to give them a feeling that you understand your email subscribers and value them.
The following email template example depicts the point I am trying to make. When a subscriber sees the recipient's name at the outset, they will trust you more, which would lead to much higher engagement. This email sounds more like a well-thought letter than a robotic email that you and I already receive truckloads of on a daily basis. Hence, a personalized email is a perfect start to have a loyal and engaging subscriber base.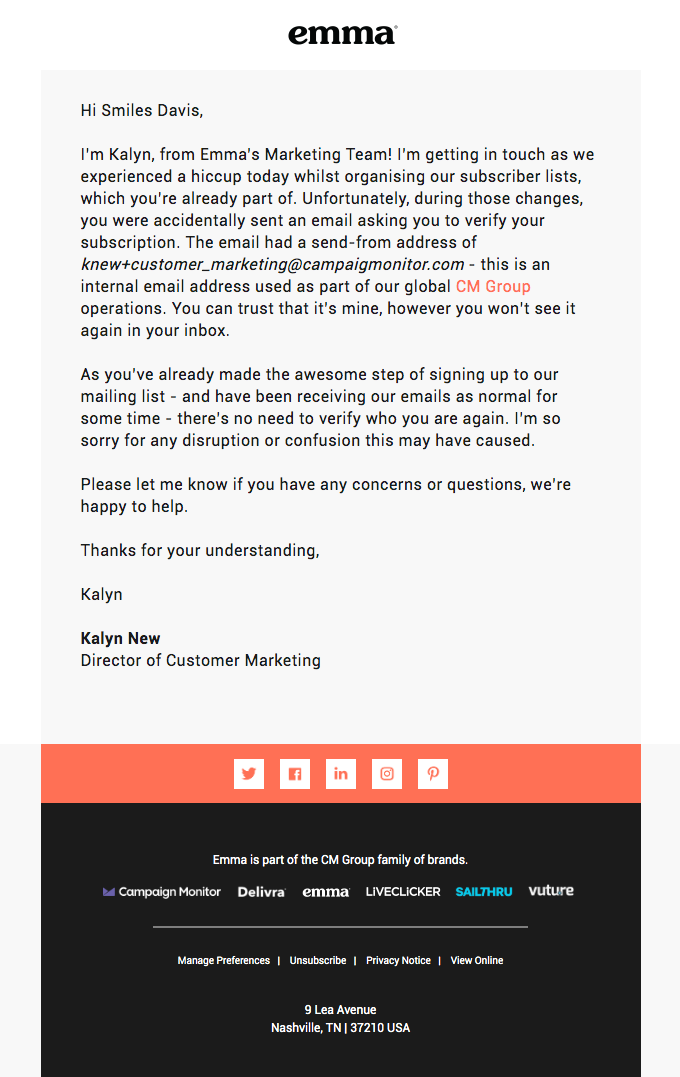 Source: Really Good Emails
Segmentation of your email lists
Personalization gets you higher subscriber engagement, and nothing comes closer to personalization than segmenting your target lists. As email marketers, we create so much content that we sometimes forget diversity amongst our respective user bases. Information that's relevant to one subscriber might be redundant for another. A great way to serve both of them is by segmenting your email list and creating specific personalized content based on that.
For example, if you experience low usage rates, then sending out re-engagement emails to engage inactive customers would be the best thing. For a more consistent customer, you can update him about the upcoming deals and offers.
The big takeaway here? In the end, customer engagement is decisive to customer acquisition and eventual customer retention. However, before trying to engage with them, it's better to understand them first. It's indispensable to have an understanding of who your customers are, what they prefer, or what's the best way to connect with them.
Join 100,000+ fellow marketers who advance their skills and knowledge by subscribing to our weekly newsletter.
Write for Us
Interested in sharing your ideas and insights with the world? Become a SMW News contributor and reach 300k readers each month.